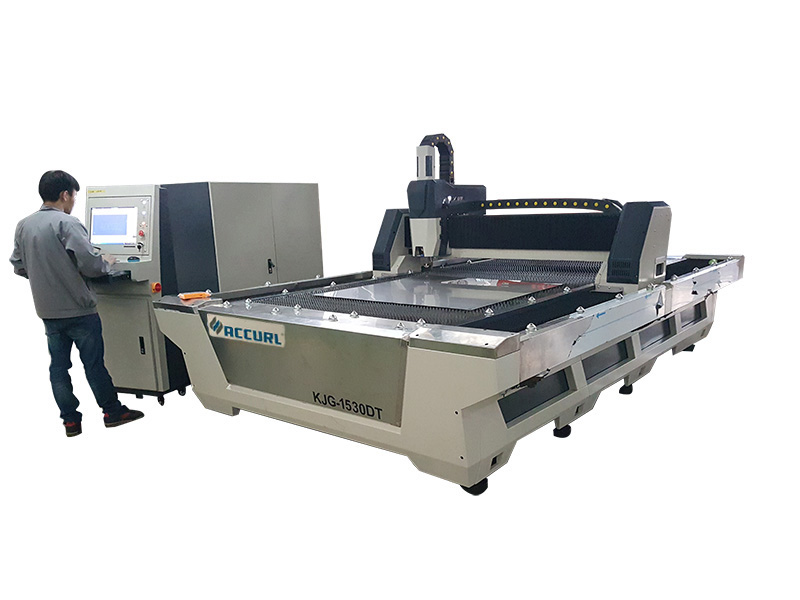 Opis proizvoda
---
Primjena proizvoda
Accurl stroj za lasersko rezanje vlakana is equipped with fiber laser which is energy-efficient, environment-friendly as well as highly efficient.
Recently, fiber laser medium is the most popular and stable laser source internationally. The laser beam of high energy density is focused on the surface of the material. Then the area melts, burns, vaporizes away, and the slag is blown away by a jet of gas, leaving a smooth seam with a high-quality surface finish made by a relative motion between laser light beam and preset routine for the material. That is to say, the automatic laser cutting can be realized when moving the light spot position by the mechanical systems controlled by CNC. KJG fiber laser cutting machine is high-tech equipment integrated with laser technology, CNC technology and mechanical technology.
Laserska snaga

Watt

500W

Laserski brend

IPG

Made in USA

Područje rezanja

mm

1500x3000mm

Laserska snaga

Watt

800W

Laserski brend

IPG

Made in USA

Područje rezanja

mm

1500x3000mm

Laserska snaga

Watt

1000W

Laserski brend

IPG

Made in USA

Područje rezanja

mm

1500x3000mm
Glavne značajke
---
1) The Accurl stroj za lasersko rezanje with the highest precision in China, it can cut small metal bike design with size of half a coin and perfectly cut 6mm mild steel,120 holes can be cut within one minute.
2) 600℃ heat treatment, 24 hours cooling in the oven, 8 meters gantry milling, accurate CO2 protection welding, to make sure 20 years usage without deformation.
3) Using laser electrical cabinet integration design, cover small area , save space, minimalist design.
4) Scrap car symmetrical design, both sides can clean up the waste; Put machine to the romm has no left and right requirements; Pneumatic lifter device to prevent the material from scratching.
5) Specially used for cutting 0.5-6mm carbon steel, 0.5-5mm stainless steel, galvanized steel, electrolytic zinc-coated steel sheet, silicon steel and other kinds of thin metal sheets.1000W can cut 3mm aluminum and 2mm copper.
Detaljan
---
Major Parts
Naziv: Tijelo stroja
Marka: ACCURL
Original: Germany
a.The steady gantry framework provides an open worktable.
b.Sinkrone X / Y / Z osi: Z-os može imati 150 mm, pogodno za rezanje mnogih različitih vrsta metalnih limova.
c.Visoka kvaliteta jamči mu trajnost i lakše održavanje.
Pogonski sustav
Naziv: Servo pogon i motor
Marka: YASKAWA
Original: Germany
Uvoženi servo motor (osa Y koju pokreću dva servo motora) zajedno s sofisticiranim planetarnim reduktorom osigurava stabilan, precizan i pouzdan pogon.
Strojni dijelovi
Naziv: Stalak i linearni vodič
Brand: YYC
Original: Taiwan
Napredni sustav rezanja, laserski pogon i servo kretanje savršeno odgovaraju jedni drugima, uvezeni sustav visoke preciznosti zupčanika i pogonski sustav nosača, zamjenjivi dvostruki radni stol, kako bi se osigurala veća brzina i preciznost obrade.
Laserska glava
Name: IPG Laser Cutting head
Marka: IPG
Izvornik: Amerika
The contactless cutting head has the function of auto height tracking and anti-collision, which greatly improves cutting speed, smoothness and cutting accuracy under the same output power. In a word, the cutting efficiency can be increased.
Model No.

Tip lasera

IPG / Coherent / Raycus

Laserska snaga

Područje rezanja

                                                          1500mmX3000mm

Struktura radnog stola

Kontrolni sustav

PMAC servo upravljanje s potpunom zatvorenom petljom

Točnost pozicioniranja

Način vožnje

                                                       Vožnja s dvostrukim stupnjem prijenosa

Idle/Processing Speed

72m/min / 36m/min

                      100m/min / 30m/min

Laserska glava

                                            Precitec / Golden Laser / Laser Mech

Sustav hlađenja

                                          Dual temperature dual control water chiller

Sustav zaštite

            Open Type

                                  Zaštita kućišta

Format Supported

                                                 PLT, DXF, BMP, AI, DST, DWG itd.

Napajanje

                                                                  380V / 220V

Ukupna snaga

          7KW / 11KW

                              17KW / 8~22KW

Podni prostor

     5.6m x 3.2m

                                        9m X 4m
stroj za rezanje čeličnim mlazom vode