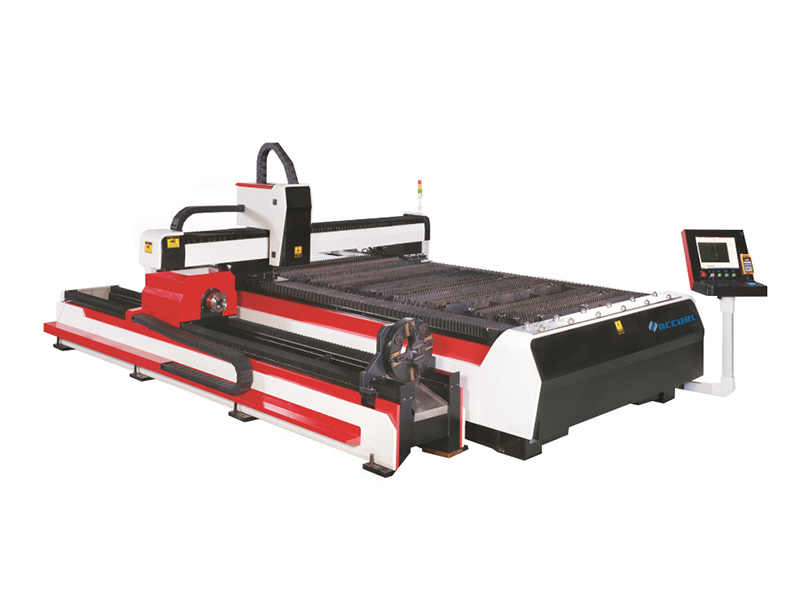 Opis proizvoda
---
Primjena proizvoda
Sheet metal cutting area: 3015(3mx1.5m), 4015(4mx1.5m), 4020(4mx2m), 6015(6mx1.5m)
Metal tubes cutting width: round pipe diameter 25mm-150mm
square pipe 25mm×25mm -100mm×100mm
Metal tubes cutting length: 4000mm/6000mm
Laser output power: 500 / 700 / 750 / 1000 / 1500W
                                                                                       Tehnički parametri      

Model

HECF3015IEAT-500

HECF3015IEAT-700

HECF3015IEAT-700

Vlast

1000W

1500W

2000W

Područje rezanja

3000mmx1500mm

3000mmx1500mm

3000mmx1500mm

round pipe diameter

25mm-150mm

square pipe 25mm×25mm -100mm×100mm

round pipe diameter

25mm-150mm

square pipe 25mm×25mm -100mm×100mm

round pipe diameter

25mm-150mm

square pipe 25mm×25mm -100mm×100mm

Debljina rezanja

sheet 0.2-12mm
tubes 2mm

sheet 0.2-16mm
tubes 3mm

sheet 0.2-18mm
tubes 3mm

Brzina rezanja

0-30m / min

0-45m/min

0-35m/min

Hlađenje način

Vodeno hlađenje

Vodeno hlađenje

Vodeno hlađenje

Napajanje

380V / 50 Hz

380V / 50 Hz

380V / 50 Hz
ACCURL  series laser cutting advantages
1. The novel appearance
Stable machine tool structure, modern appearance and function fused together made it beautiful and practical.
2. The good layout
Adopts integrative structure, reduce coverage, and exposed circuit, convenient to troubleshoot, make working environment clean and tidy.
3. Elaborate clamp device
Equipped with sophisticated clamp and lifter device.
4. Reasonable laser protection
Unique laser environmental control system, make the fiber laser is always under a safe working environment.
5. Automatic compensation
Equipped with environment temperature automatic compensation device, decease the influence of thermal deformation of machine tool, to ensure the high precision and stability cutting.
6. Flexible configuration
Optional pipe cutting function (4 m, 6 m).
konfiguracije
Svjetski izvor IPG vlakana laserskog napajanja i lasersko napajanje
HE mašina za rezanje vlaknastim vlaknima prihvaća svjetski IPG laser izvor, vijek trajanja vitalnih komponenata do 100.000 sati.
Crveni svjetlosni sustav signalizacije
Kolimator crvenog svjetla koristi se za pomoć rukovatelju da kalibrira radnu točku u cijelom limu.
Glava za njemačko lasersko rezanje vlakana
Njemačka glava za rezanje, wih kondenzator bezkontaktnog automatskog sustava praćenja prilagođava najbolju žarišnu duljinu kako bi se osigurao najbolji učinak rezanja, kvaliteta i linije rezanja, čak i ako površina materijala nije glatka; Kapacitivni senzorski prostor za rezanje najbržih 0,2 mm, poboljšava rad rezanja i smanjuje potrošnju plina.
Kontrolni sustav
Stroj za lasersko rezanje adopts high efficient HE numerical control software. Which with powerful function, strong compatibility for NC document, DXF, PLT, Al and other mapping software formats, can draw any flat graphics on computer, produce any products without molding, saving time and costs.
Sustav alatnih strojeva
Stroj prihvaća uličnu strukturu, kompaktna struktura, mala pokrivenost, jednostavan rad i održavanje mogu zadovoljiti 24-satne proizvodne potrebe.
Sustav hlađenja
Hladnjak vode male snage je upravo potreban za ispunjavanje radnih zahtjeva, postiže manju potrošnju energije.
Exhaust Fan
The centrifugal blower remove the dust to maintain a good working environment and reduce the harm to personnel safety and equipment.
Rotary Clamp
Rotary clamp can hold round pipe and square pipe, with thickness 3mm, length 6000mm. The clamp can feed automatically with stable long-time feeder work.
kompaktni stroj za lasersko rezanje
,
stroj za rezanje kvadratnih cijevi