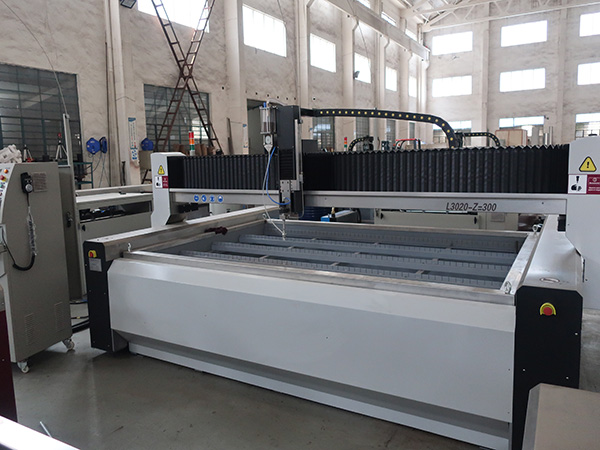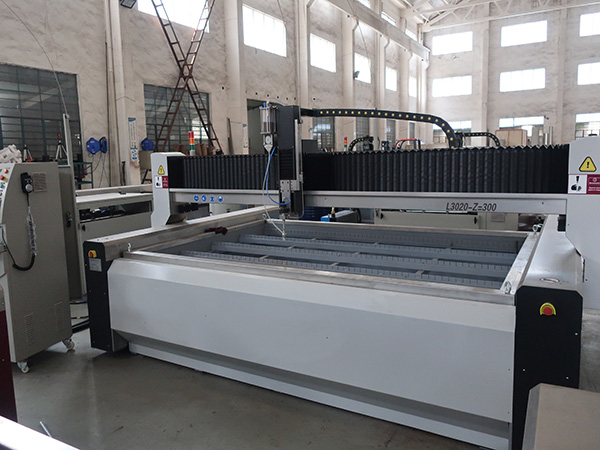 Specifikacija:
---
1.Water jet cutting working table
2.Intensifier made in usa
3.Yaskawa servo control
4.Waterjet cutting head
5.Automatic abrasive delivery system
Artikal
Model
RC2015
Struktura
Most
Cutting table size
2100*1600mm
udar
Apscisa
2000 mm
Y-osa
1500mm
Z-osi
130mm
CNC Controller
Step System / AC Servo System
Točnost
±0.1mm
Cutting
ponovljivost
± 0.05mm
Traverse speed
6500/15000 mm/min
Napajanje
220V/380VAC,50Hz
Turbocharger parameters

Artikal
Model
450b
Maximum pressure
450Mpa
Normal operating pressure
350-380Mpa
Main motor power
37KW Siemens
Oil pump
Variable
Hlađenje
Water/Wind/Oil
High-pressure cylinder
Uvozni
Inlet valve
Uvozni
Ceramic rod
Uvozni
Akumulator
Single taper
Napajanje
415/380/220V AC 3P
feature:
---
1.Adopt konfiguracija servo pogona Tajvanski vijak, linearni vodič može postići nesmetano kretanje, kako bi se osigurao nesmetan rad. Da bi se osigurao nesmetan prijenos cijelog stroja.
2.Seel baza, grede uvezene visokokvalitetne bešavne čelične cijevi, a zatim ispraznite istinsku toplinsku obradu, nevidljive promjene.
3.Spuni raspon kapaciteta rezanja, bilo koje rezanje krivulje na ravnini.
4.Posebno ojačana struktura kreveta, tako da glava za rezanje ne stvara vibracije tijekom rada velike brzine, stroj radi glatko, brzina rezanja, velika preciznost obrade.
5.Vijak i vodilica poznatih tajvanskih proizvođača, X, Y os je izvorno podmazivanje vijčane šine s uljem, plus vodootporni, otporni na prašinu strukturu kako bi se osigurala točnost obrade CNC platforme za rezanje i maksimalni radni vijek vijaka vodiča.
6.Cutting head is equipped with reliable pneumatic high-pressure water switch control device, improve production efficiency.
7.Unique sand valve design, simple structure,the flow of sand smooth, easy to repair.
8.All stainless steel protective cover, dustproof, waterproof, anti-rust, anti-corrosion, easy to use water to clean, maintain the cutting platform perennial burnished as new.
9.4-axis and 5-axis system tilt cutting heading for optional choice with extra charge.
10.Varities kinds of applications:Ceramic, Stone, Glass, Marble, Stainless Steel, Plastic foam, Aluminum
11.any size of cutting machine is availble for our customers requirement.
Naše usluge
---
After-sale service commitment
A. We are assure that the equipment is completely brand-new and will conform to the technical specifications.
B. The machanical guarantee on machinery and equipment shall be 12 months after the acceptance data(Vulnerable parts excluded).
C. The damages are due to faults in design or workmanship, We will replace or repair it base on the follow situation.(Vulnerable parts excluded)
The following guarantee is for the vulnerable parts:
a. The part is broken before less than 50% of its guarantee time, the seller will replace or repair it at the seller's own cost.
b. The part is broken up to or more than 50% of its guarantee time, the seller and buyer should bear its cost base on the percentage of the using time.
c. The part is broken after its guarantee time, the buyer should replace or repair it at the buyer's own cost.
Installation and training: we can send technician to your place for the complete installation and training. The buyer must paid in advance for all the expense include travelling, visa, hotel, and meals etc.
Brzi detalji
---
Stanje: Novo
Dostavna usluga: Inženjeri dostupni za servisiranje strojeva u inozemstvu
Item: Portable waterjet cutting machine
Size: 2100*1600mm
Cooling way: Water/Wind/Oil
Drive type: Yaskawa Servo Drive
Cutting Accuracy: +/- 0.1mm
Max operation pressure: 450Mpa
Motor Power: 37KW Siemens
Application Material: metal, stone, glass, stainless steel
Warranty: 1 year
trošak stroja za rezanje mlaznice vode