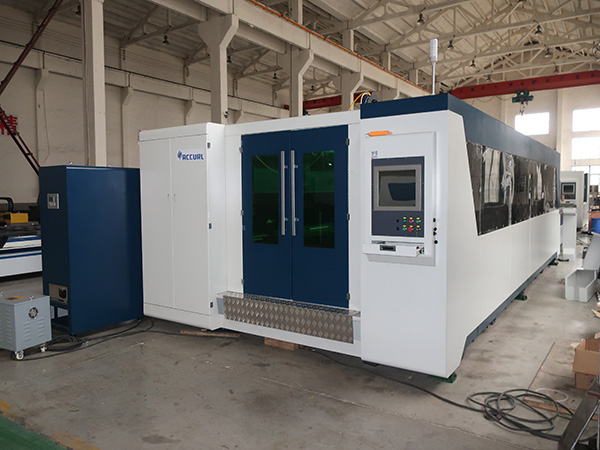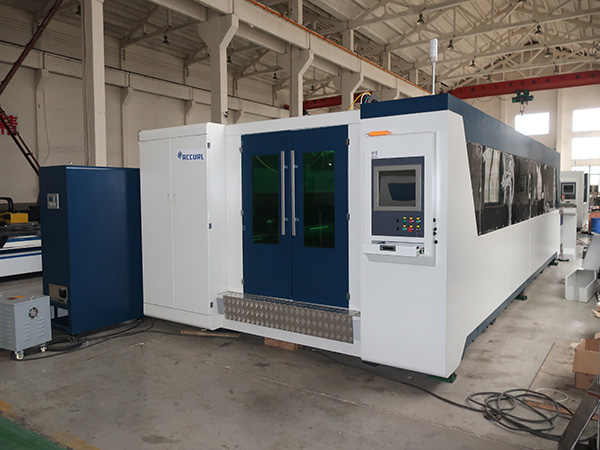 Primjena proizvoda
---
Kitchen cabinets,Door processing,Lighting hardware,Chassis cabinets,Advertising signs,Elevator manufacturing,Sheet metal processing,Home appliances
Strojni dijelovi
Name: Cutting Head
Brand: WSX
Izvornik: Kina
Capacitive sensors automatic induction plate deformation
optional auto-focus function,improve the degree of automation
Glavne značajke
Name: Laser Generator
Marka: IPG
Original: German
Full power section constant BPP,good beam quality,
small facula,electro-optical conversion efficiency is
is more than 30% ,adopt modular "plug and play" design.
High reliability ,maintenance-free ,compact,strong,easy to install.
Pitanja
---
1.Kako prevoziti stroj?
-You can find a shipping company.Or we can find one for you and quote you a CIF price.If less than one container,we will choose LCL(less than carload),it will be cost-efficiency .If you purchase more,will find 40"HQ or 40 FR container according to the goods size.
2. Koja je snaga vaše tvornice?
-Naša tvornica ima više od 500 kvalificiranih tehničkih radnika i većina njih ima preko 10 godina iskustva u izradi strojeva. A s više od 120 starijih tehničkih inženjera. Posvećeni su razvoju proizvoda, kvaliteti i poboljšanju. Više informacija, možete vidjeti slike od nas.
3.Koja je kvaliteta stroja?
-ACCURL is a mature brand in China,through our many years research in technology,our design including structure and detailed sercurity and precision has enhanced greatly,and can match all the CE standard,ISO9001:2008 or morestrict standard.And we can allow on-site inspection before purchase.
4.Da li ste sklopili korporaciju s bilo kojom tvrtkom u našoj zemlji?
-Mi smo proizvođač koji je izvozio naš proizvod u mnoge zemlje. Možete dobiti kontakt detalja od našeg osoblja.
5.Što je MOQ ili OEM?
-MOQ: 1 est.I prihvatite OEM.
6.Koji je rok plaćanja?
-T / T (30% predujma, saldo kad se vidi kopija B / L)
-L / C (100% L / C na vidiku)
7.Do you have in stock?
-The popular models are in stock.
Fiber Laser Cutting Machine: LFD-3015 500W,750W,1000W, 1500W
Brzi detalji
---
Primjena: lasersko rezanje
Stanje: Novo
Tip lasera: Fiber laser
Primjenjivi materijal: Metal
Cutting Thickness: 0-18mm
Cutting Area: 1500*4000mm
Brzina rezanja: 0-60000mm / min
CNC ili ne: Da
Način hlađenja: vodeno hlađenje
Upravljački softver: Cypcut
Graphic Format Supported: DWG
Mjesto podrijetla: Anhui, Kina (kopno)
Dostavna usluga: Inženjeri dostupni za servisiranje strojeva u inozemstvu
Naziv proizvoda: Laserski stroj za rezanje metala s vlaknima
Ključna riječ: Laserski stroj za rezanje vlakana
Funkcija: rezanje metalnih materijala
Tip: Water Cooling Fiber Laser Cutting Machines
Color: Red-white
Working area: 1500mmX3000mm,1500X4000mm
Snaga lasera: 2000W
Name: Automatic CNC Laser Cutting Machine
Laser tube: Reci Laser Tube
---