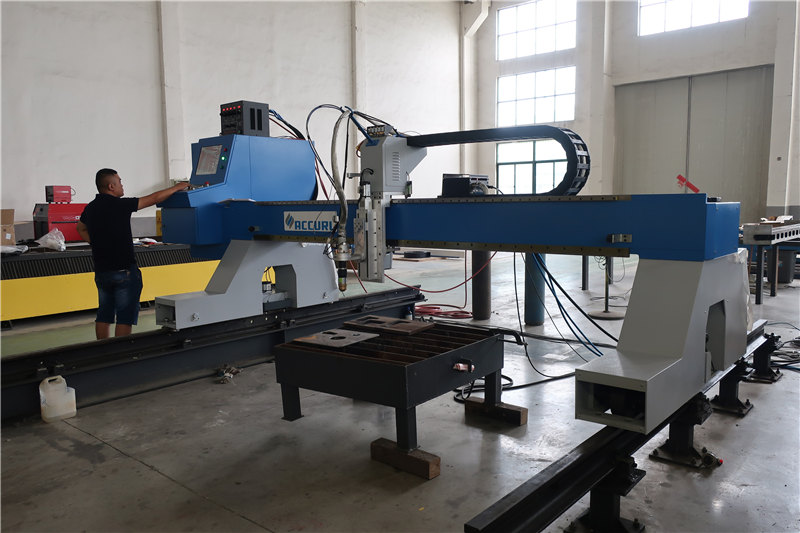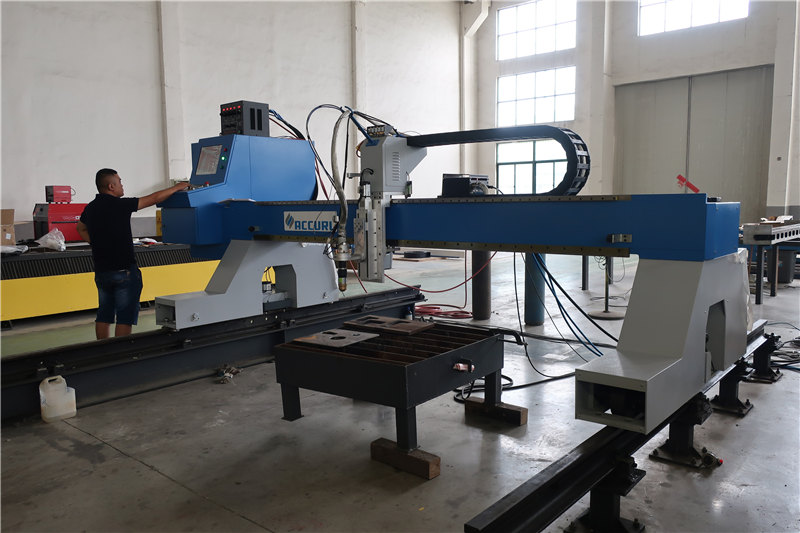 Features of the gantry cutting machine for palte and pipe :
The gantry CNC plasma and flame cutting machine for plate and pipecan cut metal plate and pipe in one machine ,it is characterized of high automation and efficiency,easy operation and long service time.
This CNC plasma and flame cutting machine is gantry structure with double-driven system, working size can be customized upon requirement.It can be used for cutting carbon steel, stainless steel and non-ferrous metal in any 2 d graphics,this is widely used in metal cutting fields.
Advantage of gantry cutting machine :
1.Have own workshop
We produce the machine frame , torch movement, rail groove other small parts all by ourselves. That will be more reliable and cheap .While others are purchasing this and assembling .
For delivery time and quality can control by ourselves , with enough guarantee .
2.Machine structure
For gantry cutting machine , most important is machine frame ,it effect the using life and cutting precision .
All steel frame is 8mm thickness , the front apron is 20mm , they are disposable by large CNC milling machine . So that can make sure the working stable and cutting precision ,can extend its life .While others using rectangular pipe , will easily go deform .
3.Hollow design
It can take away the heat when cutting ,also can decrease the power from different directions . Adopt this design can increase the intensity , to avoid deform, extend its life.
4.Bilateral rack and pinion transmission without engagement gap
This can make the machine running smoothly when the ground base deformed. It had experienced by our customers and feedback good .we use steel wire rope,it is hard broken and easy to buy in your local, while others use slider,it is easily go broken , only to buy from manufactures ,delay production
5.The torch movement is equipped with eccentric wheel
Tthis configuration with low failure rate,easy to detect. Can realize the user's own adjustment if the mobile body tilt after the long time use.
Machine parameter of gantry cutting machine for plate and pipe

Cutting Area
(2500- 7500mm) by (4000mm-20000mm) or customized
Promjer cijevi
50-600mm ,length 5m/10m/15m
Input Power
220 ± 10%V AC 50Hz /60 Hz
For Servo Motors: 750 W
Cutting Modes
Plasma Cutting / Flame Cutting / Plasma Cutting+ Flame Cutting
Transmission Style
Rack & Gear
Drive Style
Servo Motors Double Sides Drive
Step Motors Double Sides Drive
Torch Lift Distance
200 MM
Torch & Number
One Plasma Torch / One Flame Torch /
One Plasma Torch + One Flame Torch
Two Flame Torches/One Plasma Torch+One Flame Torch
Plasma Cutting Thickness
Depend On Plasma source
Flame Cutting Thickness
Piercing Cutting: 5-80 mm
Edge Start: 5-150 mm
Torch height control
Plasma Automatic Torch Height Control /
Flame Capacitance Torch Height Control
Brzina rezanja
For Servo Motors: 0-10000 mm / min
For Step Motors: 0-4000 mm / min
Cutting Table
(We can supply drawing of the cutting table with the machine for free.)
Točnost pozicioniranja
≤±0.2 mm /m
ponovljivost
≤±0.3 mm /m
Zašto izabrati nas?
1. Specijalizirali smo se za proizvodnju i prodaju CNC stroj za rezanje, stroj za rezanje ploča, stroj za rezanje cijevi, h stroj za rezanje greda itd.
2. We have a professional sales and service team , can provide the installation and training
3.Naši proizvodi, garancija kvalitete, CE certifikat, izvoze se u više od 40 zemalja širom svijeta, poput Mađarske, Poljske, Španjolske, Indije, Belgije. Francuski. Indonezija. Korejski. Australije. Rumunjska. Rusija. Irak i tako dalje.
4.For machine frame all made by ourselves , quality and delivery time have enough guarantee .
Pitanja
1. Jeste li tvornica ili vanjskotrgovinsko poduzeće?
Mi smo tvornica, poslujemo i na domaćem i na inozemnom tržištu
2. Što ćemo učiniti ako ne znamo kako upravljati strojem nakon što ga kupite?
Imamo priložene detaljne upute za uporabu i uporabu, također dolazi s video zapisom, vrlo je jednostavno. Podršku za telefon i e-poštu imamo 24 sata dnevno.
Ako trebate našeg inženjera, idite na tvorničku instalaciju i obuku, da nema nikakvih problema
3. Kakva je kvaliteta vaših proizvoda?
Za strojni okvir koji smo sve napravili sami, kvaliteta i rok isporuke imaju dovoljno jamstva. Također su naši proizvodi prošli CE certifikat, izvezeni u puno zemalja širom svijeta, poput Rusije, Iraka, Belgije, Kazahstana, Koreje itd. Apsolutno možete biti sigurni u kvalitetu.
4. Što učiniti ako stroj ima problem?
24 sata pravovremeno odgovaranje na poštu i telefonske pozive. Ako dijelovi koji se razbiju pripadaju ne-umjetnim faktorima u roku od 12 mjeseci, nudimo besplatnu zamjenu. Ako su stariji od 12 mjeseci, kupci trebaju snositi prijevoz robe unatrag i unaprijed te troškove dodatne opreme.
5. Koje su vam stvari također potrebne nakon što smo kupili vaše strojeve?
(1) S rezanjem plamena: samo trebate pristupiti kisiku i gorivu. (2) Uz rezanje u plazmi: trebate izvor napajanja u plazmi i kompresor zraka. Možete sami spojiti napajanje iz plazme ili kupiti zajedno s rezačem od nas. Ako kupite od nas, spojit ćemo žice plazma izvora napajanja i CNC stroj za rezanje zajedno, a onda i prikladnije za upotrebu.
6. Koji je rok nakon plaćanja?
Vreme trajanja je prema vašim naručenim proizvodima i količini. Stroju za rezanje dasaka treba 15 dana; stroju za rezanje cijevi treba 30 dana; h stroju za rezanje snopa treba 60 dana. To treba potvrditi komunikacijom s našim prodajnim osobljem.
7. Koji su vaši uvjeti plaćanja?
Podržavamo T / T, L / C, Western Union i tako dalje. Također se mogu dobiti i drugi načini nakon što se obje strane raspravimo i dogovorimo
cnc stroj za rezanje plamenom plazmom
,
stroj za rezanje plazme